CSF High-Performance Intercooler System Features (CSF #8194):

Eliminates Heat Soak and Lowers Intake Air Temperatures (IATs) for Maximum Performance in High-Performance and Race Conditions

Stage 1 (Stock Tune) +20 WHP / +18 WTQ*
Stage 2 (With High-Performance Tune) +10 WHP / +20 WTQ*

Formula-1 Performance Grade Core by PWR (2-Row Core Featuring Rolled Tubes w/ Inner Fins)
CNC Machined Billet End Tanks
100% TIG Welded vs. OEM Style Gasket and Crimped End Tanks for Maximum Durability
OEM Style Inlet/Outlet Connections for Precise Fitment With All OEM Components
True Plug-and-Play "Drop-in Fit" Installation Requires Absolutely No Modifications
Made in the USA at PWR North America
* Compared to OEM Intercoolers With Same-Day Dyno Testing by VF Engineering


Complete Set Fits:
2020+ Audi C8 RS6/RS7
OEM # 4K0 145 805 P (Left) & 4K0 145 806 B (Right)

Due to the complexities and machining time of manufacturing these intercoolers, production runs are limited.
Dyno Testing
In-depth engineering processes and testing alongside leading VAG tuning/supercharger specialists, VF Engineering, and Pacific German allowed us to make this high-level vehicle's components just as refined as the vehicle itself.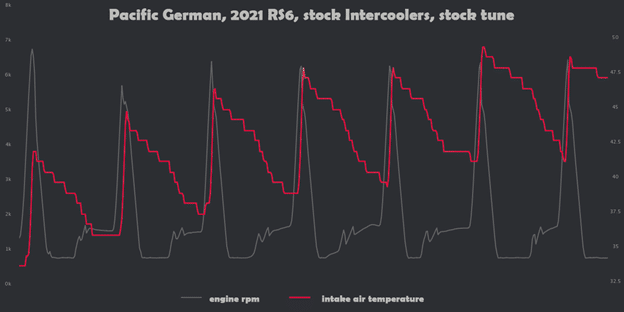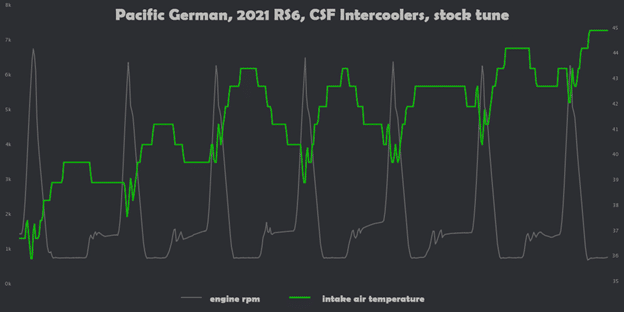 These two graphs show the comparison of OEM (Left) and CSF Intercoolers (Right) with a factory OEM engine tune on an Audi C8 RS6. As you can see from the graphs above, the OEM intercoolers exhibit heat soak early in the testing, already starting to affect performance on the 3rd dyno pull. IATs go up with engine speed. With the CSF intercoolers, the temperature drops as engine speed increases, and recovery between dyno pulls are rapid.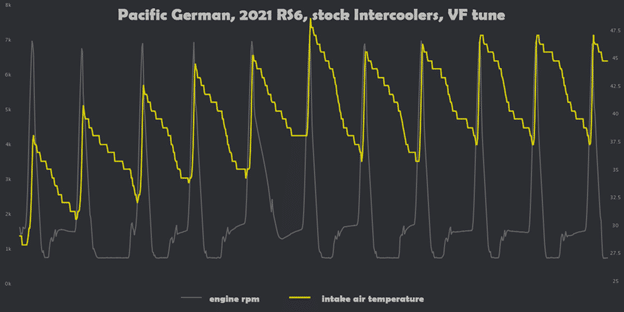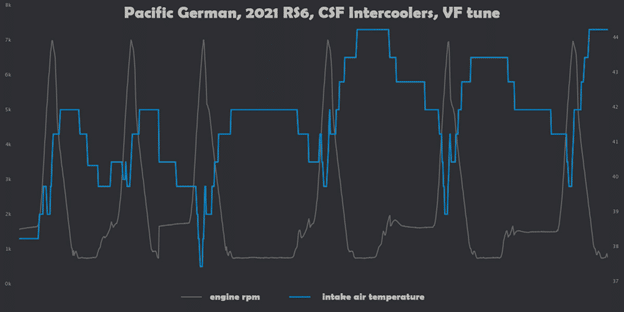 The second set of graphs compares the OEM (Left) and CSF Intercoolers (Right) with VF Engineering Stage-2 engine performance software. In these graphs, like the previous ones, the OEM intercoolers also allow heat to rise as engine speed increases. With the CSF Intercoolers, air intake temperatures drop as engine speed increases. Compared to the OEM intercoolers, IATs are much more stable with the upgraded CSF units.
Design & Engineering

 

OEM
CSF by PWR
# Of Tubes
22
45
Tube Height
7mm
3mm Rolled Tube
Fin Height
7mm
4.85mm
Design
Crimped w/ Gasket
100% TIG Welded
Cast End tanks
CNC Billet End Tank